View:
'Baltimore: Standing Together' Town Hall Series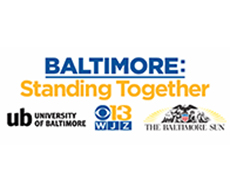 When:

Location:

Town Hall

Description:

With a number of significant issues facing Baltimore—including the effectiveness of K-12 education, a series of setbacks with the local crime rate, concerns about the city's infrastructure, and more—the University of Baltimore's Schaefer Center for Public Policy is joining with city leaders and area media outlets to host "Baltimore: Standing Together," a three-part series of town halls, to encourage public dialogue and increased awareness of potential solutions.

The first "Baltimore: Standing Together" town hall is focused on crime and will take place on Wednesday, Feb. 28, at 2 p.m. in the Town Hall in UB's H. Mebane Turner Learning Commons, 1415 Maryland Ave. Each session is free and open to the public, but advanced registration is required. (Details listed below.) For those who can't attend, the meeting will be taped for broadcast by WJZ-TV at 6:30 p.m. that day, and also available via streaming at the website for The Baltimore Sun.

For each session, the public may submit questions online for general discussion. City leaders will address these questions as part of each session's conversation.

To attend the first session in this series, register here.

Learn more about the "Baltimore: Standing Together" series and the Schaefer Center for Public Policy.

Contact Name:

Chris Hart

Contact Email:
Appropriate accommodations for individuals with disabilities will be provided upon request 10 days prior to a campus event and 30 days prior to an event requiring travel.