UB Living "Out on the Town"
April 3, 2012
Time: 6:30 PM - 9:00 PM
Location: Student Center
Contact Name: Jeff LaNoue
Contact Phone: 410-837-5199
Contact E-mail: j.lanoue@ubalt.edu
Related URL: http://www.facebook.com/events/348775171840926/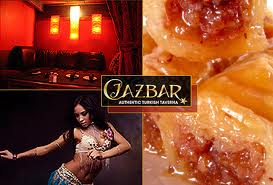 UB Living invites students for an evening dinner at Cazbar. Cazbar is a Turkish restaurant with a nice middle-eastern ambiance.
The food is 15% off and the fun is free. Bring your friends or come by yourself, but come to meet new people. This is a chance to try a new place out.
We will meet at the student center at 6:30 Tuesday April 3 and proceed to the restaurant and arrive around 7pm.
Any questions, please contact Jeff La Noue at jlanoue@ubalt.edu
Please RSVP to the event on the UB Living Facebook page.