View:
UB Improv Club Spring Callout!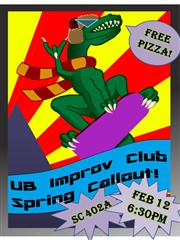 When:

Location:

Student Center

Room:

402a

Description:

Want to find out more about the UB Improv Club? Now's your chance! Join us at our callout to play (or watch) some short form improv games (much like what you may have seen on the show 'Whose Line is it Anyway?), meet a few new people, and enjoy free pizza and soda!

Contact Name:

C.R. Leyburn

Contact Email:
Appropriate accommodations for individuals with disabilities will be provided upon request 10 days prior to a campus event and 30 days prior to an event requiring travel.