View:
HEROES Academy: UB's Annual College Experience for Area High School Students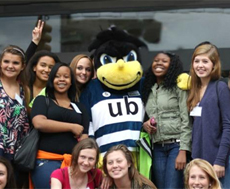 When:

Description:

The University of Baltimore's annual HEROES Academy—Higher Education Readiness and Orientation for Exceptional Students—will take place on campus on Friday, Oct. 24 from 8:30 a.m. to 2 p.m. This year, 180 students from Baltimore City College, Baltimore Polytechnic Institute, Catonsville High School, Pikesville High School, Towson High School and Western High School will participate, visiting classes, meeting with professors, UB students and staff, and generally getting an immersive experience in college life.

The HEROES Academy is a University of Baltimore community outreach initiative created by UB staff. This unique college-readiness program offers high school sophomores a simulated college experience through various educational and inspirational activities.

To date, more than 800 local high school students have participated in the day's events, and more than 100 UB staff, faculty and students have volunteered to host the Academy to ensure its success.

The Office of Government and Community Relations thanks the UB community for their participation, and urges everyone at UB to extend a warm welcome to the 2014 HEROES Academy class.

More information about the program is available by calling 410.837.5020 or sending an email to bthompson@ubalt.edu.

Contact Name:

Barbara Thompson

Contact Email:
Appropriate accommodations for individuals with disabilities will be provided upon request 10 days prior to a campus event and 30 days prior to an event requiring travel.