View:
Merrick Engages - A Conversation with Michael Curry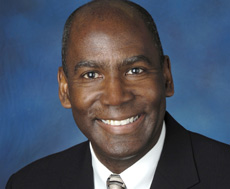 When:

Location:

William H. Thumel Sr. Business Center

Room:

Auditorium

Description:

Join Murray Dalziel, dean of the Merrick School of Business as he talks with Michael Curry, B.S. '77 about his career, business and life lessons.


Michael Curry is the Principal of Business Contingency Services for the Vanguard Group, Inc., a leading provider of comprehensive investment management services based in Malvern, Pennsylvania. In this position, he is responsible for enterprise-wide business contingency planning, development, maintenance and testing. Prior to this role, Curry led the Vanguard Retirement Resource Center and served as Executive Assistant to the Chief Technology Officer.

Curry began his career as a staff accountant with Deloitte, LLP, a public accounting firm. Since then, he has held audit and management positions of increasing responsibility with several successful organizations including Philip Morris Companies, Inc., The Washington Post Company, Marriott Corporation and The Zurich Insurance Group. Curry's educational background includes the U.S. Naval Academy and the University of Baltimore.

As a Vanguard leader, Curry is actively involved in cultivating relationships with diverse professional organizations. This includes the privilege of speaking and conducting workshops at National Association of Black Accountants (NABA), National Black MBA Association (NBMBAA) and the National Society of Hispanic MBAs (NSHMBA) local chapters and national events.

In February 2010, Curry was recognized by Savoy magazine as one of the "Top 100 Most Influential Blacks in Corporate America". Staying connected to his alma mater has been Curry's commitment for many years. He served as Chairman of the University of Baltimore Foundation Board from 2011 – 2013 and continues to stay involved as a member of several Board committees. Curry was recognized as the University of Baltimore Alumni of the Year for the Merrick School of Business in 2008.

Curry was also a member of the University of Baltimore's 1975 Division II National Championship men's soccer team.

---

Merrick Engages is a series that takes a close look at contemporary business topics through the lenses of successful business leaders. Each business leader sits down with Murray Dalziel, dean of the Merrick School of Business, and they engage in a conversation that aims to better inform us, and provide a new perspective into the business world. Each time the dialog will delve into topics pertaining to careers, business transformation and life lessons-learned.

Contact Name:

Office of the Dean

Contact Email:

Contact Phone:

410.837.4955
Appropriate accommodations for individuals with disabilities will be provided upon request 10 days prior to a campus event and 30 days prior to an event requiring travel.