View:
The Entrepreneurial Experience, Students Pitch Ideas—You Ask Them Questions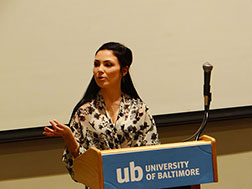 When:

Description:

On Monday, Oct. 12, the Entrepreneurial Experience students will present publicly their business idea pitches in the Business Center's Auditorium from 2-4 p.m.. Each student will pitch an original business idea.

You are very welcome to participate and be part of the students' learning experience. The audience will be invited to ask questions and to vote on the best idea. Light refreshments and cookies will be served.

Every semester the University of Baltimore offers a survey course titled "The Entrepreneurial Experience." In this course students are introduced to a variety of concepts related to the different phases of new venture creation including discussions relating to ethical, international and legal issues.

ENTR300.001 is taught by Assistant Professor of Entrepreneurship, Tiago Ratinho and is an enhanced course supported by the Helen P. Denit Honors Program.

Contact Name:

Office of the Dean

Contact Email:
Appropriate accommodations for individuals with disabilities will be provided upon request 10 days prior to a campus event and 30 days prior to an event requiring travel.