View:
"International Venture Capital Firms Syndication: Lessons from US firms in China"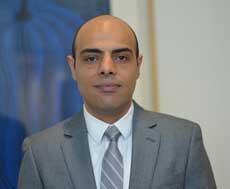 When:

Description:

You're invited to attend the Merrick School of Business Faculty Research Dialogue Series.

Join Amir Pezeshkan, assistant professor of management as he shares research focused on, "International Venture Capital Firms Syndication: Lessons from US firms in China."

Dr. Pezeshkan joined the Department of Management and International Business at Merrick School of Business in 2015. Pezeshkan's work has appeared in such outlets as Journal of World Business, Asia Pacific Journal of Management, Journal of Business Research, South Asian Journal of Global Business Research, and VINE. Prior to joining the Merrick faculty, Pezeshkan worked at Old Dominion University, where he taught international business and strategic management. Pezeshkan also successfully started and managed an entrepreneurial venture prior to his start in academia. He is a member of the Academy of Management, the Academy of International Business, and the Southern Management Association.

---

UPCOMING FALL FACULTY RESEARCH DIALOGUES

Nov. 16, Ting Zhang, "Homophily of Ownership Stake and Sweat Equity in Entrepreneur Teams" (This particular dialogue presentation is an event associated with the University of Baltimore's celebration of Global Entrepreneurship Week)

---

What is the Research Dialogue Series?

The Merrick School of Business Research Dialogue series aims to disseminate the faculty's research to the wider community. Faculty and students from all colleges and schools are invited to join in informal talks about the Merrick School of Business faculty's research streams. Each speaker will attempt to explain his/her research results with an emphasis on the implications for teaching and practice. Contact Dr. Tiago Ratinho with questions.

Contact Name:

Tiago Ratinho

Contact Email:
Appropriate accommodations for individuals with disabilities will be provided upon request 10 days prior to a campus event and 30 days prior to an event requiring travel.