View:
Merrick Engages Series -"How Well-Run Businesses Can Make an Impact."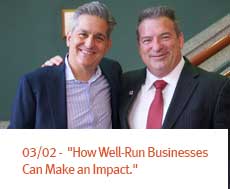 When:

Location:

William H. Thumel Sr. Business Center

Room:

Auditorium

Description:

Murray Dalziel, dean of the Merrick School of Business, will delve deep into the reasons why a venture capital and private equity firm like Caretta sees value in backing a company that - on the surface- is an information technology asset disposition firm, but in actuality is making a significant impact on global sustainability.

About the Speakers:

Eric Becker, Founder of Caretta Partners


Eric Becker is the founder and fearless leader of Caretta. Eric is also co-founder and advisor of Sterling Partners, a value-added, growth private equity firm launched in 1983. He was Senior Managing Director of Sterling and Co-Chairman of Sterling's Operating Committee. Over 30+ years, he and his partners started or acquired over 100 companies. Prior to founding Sterling, Eric and his partners started LifeCard International, a healthcare technology company that automated claims processing and developed digital portable medical records. Eric is Co-Chairman of Chicago Ideas Week, a member of WPO, CEO and a past chapter chairman of YPO. He currently serves on the board of Karma for Cara and the Living Classrooms Foundation. He attended the University of Chicago.

Lane Epperson, President and CEO of HiTech Assets

Lane Epperson founded HiTech, a national provider of IT asset disposition services in 2002. As CEO, Epperson is responsible for the strategic guidance of the company and believes that developing the best team is the best way to lead. He has 18 years of industry experience and led HiTech to be one of the first electronics recyclers in the world to achieve premium certification for best practices in data security and sustainability. He has been very active with the Institute of Scrap Recycling (ISRI), the largest and most prominent recycling trade association representing more than 1,600 private and public for-profit companies operating at more than 6,000 facilities in the United States and 30 countries worldwide. Lane has held the following roles with ISRI: Board Member, Electronics Legislative and Regulatory Committee - Chair, Electronics Division Director & Education Committee – Vice Chair. Additionally, Lane has provided expert testimony to the Congressional Recycling Caucus, the U.S. International Trade Commission and has been invited to speak at numerous key industry events. He is passionate about HiTech's mission to positively impact every organization and individual who comes into contact with the company and especially enjoys client relations and employee development.

Contact Name:

Donica Harper

Contact Email:

Contact Phone:

410.837.4883
Appropriate accommodations for individuals with disabilities will be provided upon request 10 days prior to a campus event and 30 days prior to an event requiring travel.