View:
UBelong: Pride 2020 Celebration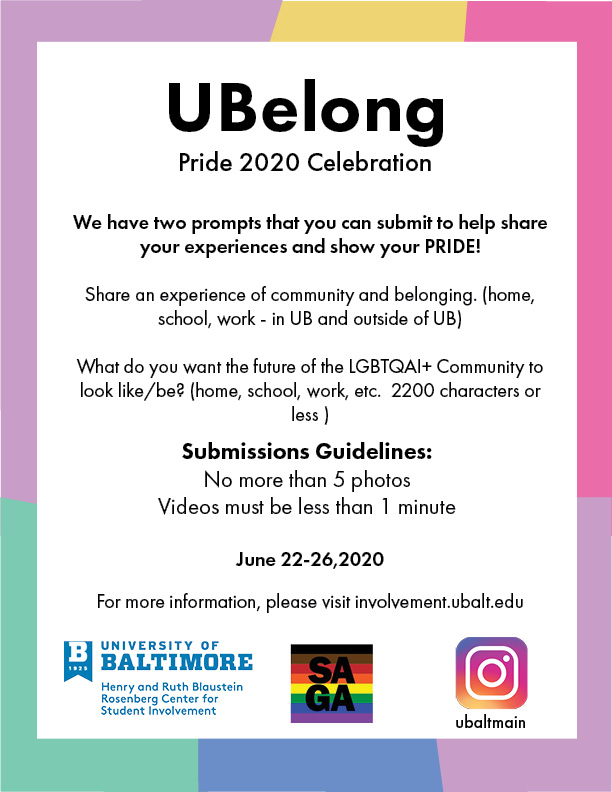 When:

Room:

@ubaltmain

https://docs.google.com/forms/d/e/1FAIpQLScI5Q4C8oq6GRgz4cXrtT3c21pqzBZOUHVzrEYDJajRywgK6Q/viewform?pli=1

Description:

Greetings,

Each June, the Rosenberg Center for Student Involvement celebrates our LGBTIA+ faculty, staff, and students by participating in the Baltimore Pride Parade. With the cancellation of this year's parade due to the ongoing pandemic, the Center for Student Involvement has partnered with the Sexuality and Gender Alliance (SAGA) student organization to present UBelong: Pride 2020 Celebration. For Pride 2020, we are highlighting stories of community and belonging.

We want to collect artwork, photographs, short videos, and narratives that depict people's stories, joys, and visions for the future. We will then share them on the @ubaltmain Instagram account on June 22-26, 2020.

You will be able to select what information you want to share, including options to post anonymously. For more details about content and privacy, click on the form description below.

UBelong: Pride 2020 Celebration Form

If you have any feedback, questions, concerns, please contact Brittany Richmond at Brichmond@ubalt.edu or accessibility questions, please contact María Z Maclay at mmaclay@ubalt.edu.

You are valued, you are loved, and UBelong!

Kira Guy, María Z Maclay, and Brittany Richmond

Contact Name:

Brittany Richmond

Contact Email:

Contact Phone:

410.837.5421
Appropriate accommodations for individuals with disabilities will be provided upon request 10 days prior to a campus event and 30 days prior to an event requiring travel.