View:
Team with the Dean and Joe Sullivan, CEO of Allspring Global Investments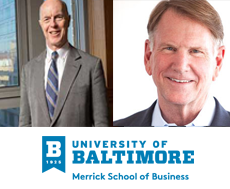 When:

Location:

UBalt Student Center

Description:

Have you thought about what the business world might look like after COVID-19 subsides? Merrick School of Business Dean Murray Dalziel is bringing our UBalt community closer together by offering a virtual conversation with speakers who have insights into the current business environment.

FEATURED GUEST: Joseph (Joe) Sullivan, Executive Chair and Chief Executive Officer at Allspring Global Investments.

Date: Tuesday, March 15, 2022
Time: 4-5 p.m.
Registration: Please pre-register for this Zoom event by using this link.
Contact: Amy Greenlee, agreenlee@ubalt.edu

SPEAKER BIO

Joseph (Joe) Sullivan is executive chair and chief executive officer at Allspring Global Investments.
Prior to his current role, Sullivan served as chairman and CEO of Legg Mason from 2012 until its acquisition by Franklin Templeton in July 2020. Prior to being CEO, he was Legg Mason's head of global distribution and chief administrative officer. Earlier, he served as a member of the board of directors, executive vice president, and head of fixed income capital markets at Stifel Financial. Sullivan also served on the board of governors for the Investment Company Institute and previously served as chair of the Securities Industry Institute, as chair of the Fixed Income Committee of the National Association of Securities Dealers, as a board member of the Bond Market Association, and as a member of the New York Stock Exchange Hearing Board. He also held prior executive roles at Legg Mason Wood Walker, Dain Bosworth, and Piper Jaffray.

Joe Sullivan earned a bachelor's degree in economics from St. John's University in Minnesota, and is a graduate of the Securities Industry Institute at the Wharton School of Business at the University of Pennsylvania.

Contact Name:

Amy Greenlee

Contact Email:

Contact Phone:

410.837.4955
Appropriate accommodations for individuals with disabilities will be provided upon request 10 days prior to a campus event and 30 days prior to an event requiring travel.