View:
The Alvin Lucier Festival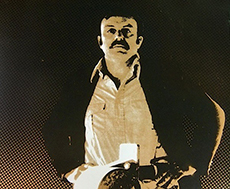 When:

Location:

Wright Theater

Description:

The first two concerts for the Alvin Lucier Festival will take place at The University of Baltimore's Wright Theater, 21 W. Mt. Royal Ave., Baltimore, MD 21230, on Thursday, May 12 and Thursday, May 19, each at 7:30 p.m. The latter two will take place at George Washington University's Corcoran Flagg Building, 500 17th St. N.W., Washington, DC 20006, on Friday, May 20 at 6 and 8 p.m. Tickets may be reserved at these links:

UBalt Shows, May 12 & 19: https://www.eventbrite.com/e/the-alvin-lucier-festival-university-of-baltimore-tickets-322232384737
GWU Shows, May 20: https://www.eventbrite.com/e/the-alvin-lucier-festival-tickets-319864733027

Lucier was one of the most influential composers of the 20th century. He wrote music that highlighted the physical effect of sound in space and on the listener's body, and he managed to make scientific sonic principles into tender, sincere musical pieces for many different instruments. A recent article in VICE gives an excellent overview of his work: https://www.vice.com/en/article/nz83j7/alvin-lucier-has-found-the-music-in-the-world-around-him-for-more-than-50-years

Highlights of the festival include Georgia Tech professor Grace Leslie, a researcher on using brain waves in music making, performing Lucier's Music for Solo Performer, in which she generates alpha brain waves that make percussion instrument sound via an EEG sensor. Pluta and Christopher Burns will install Music on a Long Thin Wire, which uses a large horseshoe magnet and a wire to generate strange, vibrating, droning music. The New England experimental ensemble Ordinary Affects will perform Corner Church & High, a recent piece of Lucier's that was written for them. The largest piece will be Lucier's Septet for seven instruments and sine wave oscillator.

Contact Name:

Ian Power

Contact Email:

Contact Phone:

141.083.5865
Appropriate accommodations for individuals with disabilities will be provided upon request 10 days prior to a campus event and 30 days prior to an event requiring travel.