View:
Baltimore County Crime Lab Tour!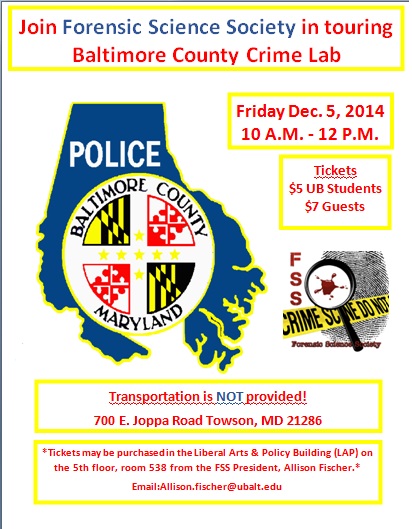 When:

Location:

Off Campus

Description:

Join FSS for a trip to the Baltimore County Crime Lab! We will have the opportunity to tour the units in the lab which include: firearms identification latent prints drug chemistry trace evidence forensic photography crime scene unit computer forensics impression evidence DNA (speaker) Where: Baltimore County Crime Lab: 700 E. Joppa Rd. Towson, MD 21286 When: Friday, December 5 from 10:00 a.m. – 12:00 p.m. Price: $5 for UB Students or $7 for guests *Tickets may be purchased in the Liberal Arts & Policy Building (LAP) on the 5th floor, room 538 from the FSS President, Allison Fischer. *PLEASE NOTE: Transportation will NOT be provided! We will meet at the ME'S by 9:45 a.m.

Contact Name:

Joseph Slider

Contact Email:
Appropriate accommodations for individuals with disabilities will be provided upon request 10 days prior to a campus event and 30 days prior to an event requiring travel.