View:
Canceled: CANCELED: Final Finish: A Long Night of Writing and Research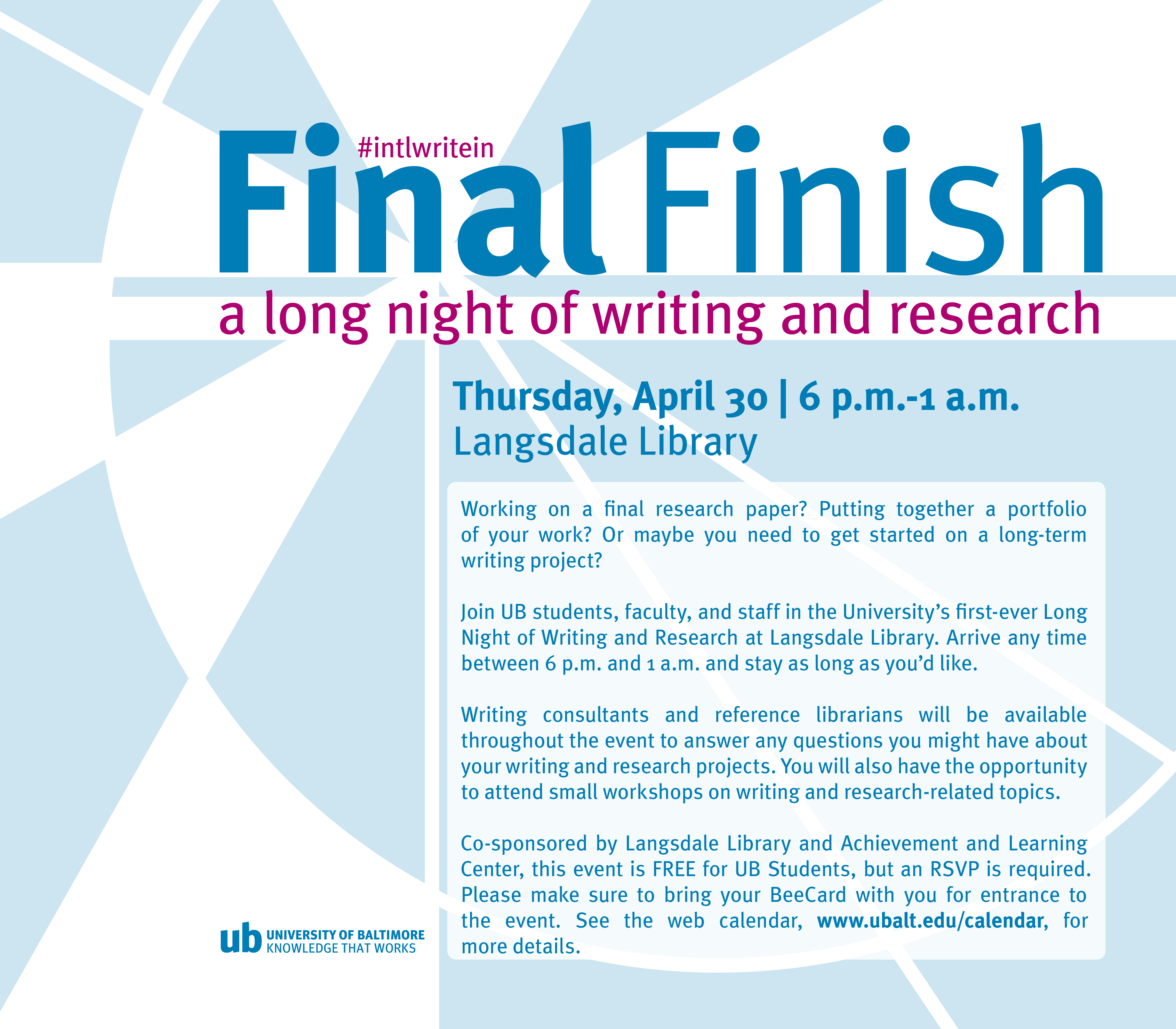 When:

Location:

Langsdale Library: Learning Commons, third Floor

Description:

Due to the recent developments in our city, UB's Final Finish: A Long Night of Writing and Research, scheduled for 6 p.m.-1 a.m. on Thursday, April 30, will be canceled. We plan to offer the event at the end of the fall semester.

We're offering several alternative options in the meantime.

One-on-One Feedback

If the University is open, you can still receive feedback on your writing during consultations this Thursday, 6-8 p.m., on the fourth floor of Langsdale Library. Thirty-minute appointments can be scheduled through the Final Finish schedule on the Achievement and Learning Center's online appointment system. Reference librarian will also be available until 8 p.m. to answer any research-related questions.

Additional Resources

And here are some online resources that have proven useful to writers throughout the world:

Check out the Online Writing Lab at Purdue University for any questions related to writing, ranging from punctuation issues and thesis statements to APA citation questions and ideas about brainstorming.

http://owl.excelsior.edu/Another great Online Writing Lab is that of Excelsior College, with tons of tips, handouts and suggestions for writing more effectively.

ALC's Writing Center at UB

On the ALC's website for the Writing Center, you can find a number of links to various topics related to writing.

http://www.ubalt.edu/academics/academic-support/achievement-and-learning-center/writing/

Contact Name:

Achievement and Learning Center

Contact Email:

Contact Phone:

410.837.5383
Appropriate accommodations for individuals with disabilities will be provided upon request 10 days prior to a campus event and 30 days prior to an event requiring travel.