View:
CANCELED: Designer Alan Peckolick: 'Type Talks, a Good Designer Listens'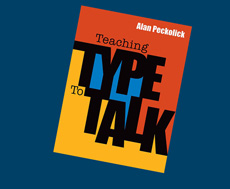 When:

Location:

M. Scot Kaufman Auditorium

Description:

THIS EVENT HAS BEEN CANCELED

Alan Peckolick, leader of a graphic design movement in the 1960s and '70s known as expressive typography and a master of designing letters in order to wholly integrate them - and sometimes to let them take the lead - in a given design, will speak at the University of Baltimore on April 30 as a guest of UB's Ampersand Institute for Words & Images. The talk is free and open to the public.

Learn more about this event.

Contact Name:

Jaye Crooks

Contact Email:
Appropriate accommodations for individuals with disabilities will be provided upon request 10 days prior to a campus event and 30 days prior to an event requiring travel.