View:
Road Map for Revolutionaries: Talk with the Authors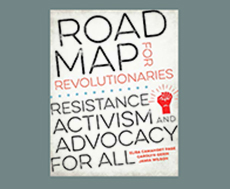 When:

Location:

Bogomolny Library

Room:

3rd Floor

Description:

With the highly anticipated nationwide midterm elections just around the corner, the University of Baltimore will host the authors of Road Map for Revolutionaries, a new guidebook featuring "practical tactics for navigating and protecting one's personal democracy in a gridlocked, heavily surveilled, and politically volatile country" in the third-floor gathering space in the Bogomolny Library, 1420 Maryland Ave. The event is free and open to the public; an online R.S.V.P. is requested below.

Contact Name:

Stephanie Gibson

Contact Email:
Appropriate accommodations for individuals with disabilities will be provided upon request 10 days prior to a campus event and 30 days prior to an event requiring travel.