View:
At the Intersection of Government and Design with Angela Colter, M.A. '98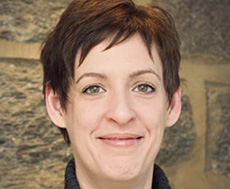 When:

Location:

H. Mebane Turner Learning Commons

Room:

Town Hall

Description:

Intersections: Discussions at the Nexus of Communication, Commerce and Culture is a speaker series focused on interdisciplinary topics affecting our world. Our next event will feature UBalt alumna Angela Colter, M.A. '98, who will discuss her work in leading a government agency focused on design. After a short presentation, we will have a question-and-answer period with the audience.

This event is open to the public.

About the Speaker

Colter is a UX designer/researcher and former Executive Director of 18F, a technology and design consultancy within the federal government that partners with agencies to modernize software development processes and improve the user experience of government services. In 2019, she was named one of the World's 100 Most Influential People in Digital Government.

Prior to her work in civic tech, she was a researcher for Electronic Ink, UserWorks, Comcast, and Vanguard. She has been a frequent writer and conference speaker on design, usability, and accessibility, and was co-author, along with UBalt professor Kathryn Summers, of the chapter on Low Literacy in Eye Tracking in User Experience Design.

Having started her own consulting company, she is currently working on the service design of a large-scale, key system used by government employees to ensure that it incorporates agile and human-centered design practices.

---

The Center for Digital Communication, Commerce and Culture is creating the next generation of designers, writers, leaders, scholars, and creators of communications, commerce, and culture for the connected digital age through innovative, interdisciplinary research and community engagement.

Contact Name:

Greg Walsh

Contact Email:
Appropriate accommodations for individuals with disabilities will be provided upon request 10 days prior to a campus event and 30 days prior to an event requiring travel.