View:
Thinkubator: Vijay presents "How Gamers Mitigating Risk - An Entrepreneur's Lesson"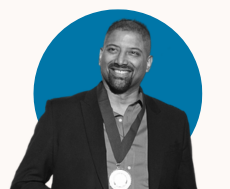 When:

Location:

William H. Thumel Sr. Business Center

Room:

BC 104

Description:

Hybrid Event

In-person

Merrick School of Business room BC-104

1420 North Charles Street, Baltimore, MD, 21202

Zoom Meeting

https://ubalt.zoom.us/meeting/register/tJwqdOyrrzopGNBkM_84ZYoH4w6HgE49DvAQ

Vijay Lakshman is a 33-year veteran of software development, having delivered over $2.5B in revenue and managed budgets more than $100MM. He draws from both his creative talent and his business education to deliver high quality results and better-than-average returns to investors. His experience includes serving as Vice President of Product Development for Universal Studios, Co-Founder and Chief Creative Officer for Planet3, Executive Director for the National Geographic Society, and Executive Producer & Lead Designer for Bethesda Softworks.

It was at Bethesda where he conceptualized and created the Elder Scrolls mythos and lore, creating the very first game in the blockbuster series, The Elder Scrolls. His work filled five novels worth of world-building, resulting in one of the greatest CRPG franchises ever known.

He received his B.S.B.A from George Washington University in Information Systems, graduated from Harvard Business School's elite General Manager Program focusing on negotiation strategy as championed by Michael Porter, and earned his mini-Medical School certification from the prestigious Georgetown University's School of Medicine.

The Center for Entrepreneurship and Innovation

About the Workshops

The CEI sponsors programming throughout the year focused on entrepreneurial learning and growth. Our weekly thinkUBator Workshop series has one goal: to provide CEI member companies with the knowledge and resources they need — access to seed capital, finding potential partners, hiring employees, marketing do's and don'ts, etc. — to transform their big ideas into a big deal, as quickly as possible.

About the Center

The University of Baltimore Center for Entrepreneurship & Innovation directs support and assistance to UB students and alumni interested in building or growing an enterprise. We do this through support, culture, events, education and research, and connecting with the business community. Meet with one of our counselors to discuss launching or growing your business. Visit us at www.ubalt.edu/cei for more information.

Contact Name:

Nathaly Rivera

Contact Email:
Appropriate accommodations for individuals with disabilities will be provided upon request 10 days prior to a campus event and 30 days prior to an event requiring travel.