View:
Ethics and AI Week: Opening Ceremony and Buffet Luncheon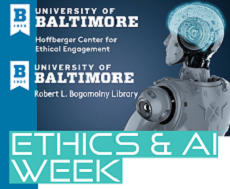 When:

Location:

Bogomolny Library

Room:

412

Description:

The Hoffberger Center for Ethical Engagement will kick off Ethics and AI Week with an opening ceremony, buffet luncheon and presentations.

Center director Steven Scalet will kick off the opening ceremony with a talk about the importance of AI for higher education, followed by presentations:

University Survey Results: Faculty and Student Perceptions of AI
Jessica Stansbury, director of teaching and learning excellence
Nima Zahadat, associate professor, College of Public Affairs
Kevin Wynne, assistant professor, Merrick School of Business

The Significance of AI
Daniel Gellasch, coordinator of programming and outreach, Hoffberger Center
Steven Scalet
Jessica Stansbury

This event is free and open to the public.

If you are unable to attend in person, there is a virtual option available:

Contact Name:

Steven Scalet

Contact Email:
Appropriate accommodations for individuals with disabilities will be provided upon request 10 days prior to a campus event and 30 days prior to an event requiring travel.