View:
Ethics and AI Week: Open House and AI Demonstrations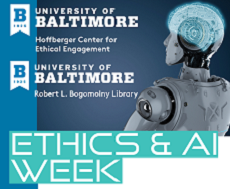 When:

Location:

Bogomolny Library

Room:

3rd floor

Description:

As Ethics and AI Week continues, join the Hoffberger Center for Ethical Engagement for an open house from 11 a.m.-2 p.m.

The Open House will feature AI and ChatGPT demonstrations and discussions led by Hoffberger Center director, Steven Scalet, Center outreach and programming coordinator, Daniel Gellasch, and Hoffberger Center Student Fellows. Topics will include prompt engineering, how to interact with ChatGPT, and how to use ChatGPT to achieve your goals.

This event is free and open to the public.

If you are unable to attend in person, there is a virtual option available:

Contact Name:

Steven Scalet

Contact Email:
Appropriate accommodations for individuals with disabilities will be provided upon request 10 days prior to a campus event and 30 days prior to an event requiring travel.