View:
"The Master Plan" featuring author Chris Wilson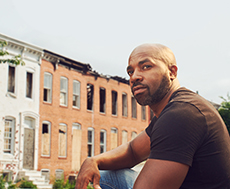 When:

Location:

Wright Theater

Description:

SOLD OUT

Event Update: March 25, 2019:

This event is at room capacity. We will be broadcasting the event via Facebook Live. Visit the @MerrickSchoolofBusiness Facebook page to view the event.

UB Student Center, fifth floor
University of Baltimore
21 W. Mt. Royal Ave.
Baltimore, MD 21201

The University of Baltimore welcomes guest speaker Chris Wilson, author, mentor, social entrepreneur and UB student. Wilson will deliver a talk about his new memoir, The Master Plan, the compelling story of how he turned a life sentence into a second chance.

Wilson was a student in the inaugural class of the University of Baltimore's Ratcliffe Entrepreneurship Fellows Program and is an advocate for UB's Second Chance College Program.

NOTE: Book signing to follow. Books will be available for purchase at the event.

This event is FREE and open to the public. Co-sponsored by the College of Public Affairs and the Merrick School of Business.

Visit the author's website.

Read "UB Law Alumnus Keith Showstack Describes Helping Chris Wilson Get a Second Chance After a Life Sentence," in the UB School of Law's Updates blog.

---

"The Master Plan is less of road map and more of a philosophy that we should all take to heart: we are all better than our worst decision, our sense of justice should honor the redemptive possibilities inherent in every person, and our destinies are truly intertwined." -- Wes Moore, author of The Other Wes Moore.

Contact Name:

Danielle Giles

Contact Email:

Contact Phone:

410.837.4948
Appropriate accommodations for individuals with disabilities will be provided upon request 10 days prior to a campus event and 30 days prior to an event requiring travel.