View:
Team with the Dean and TEDCO's CEO Troy LeMaile-Stoval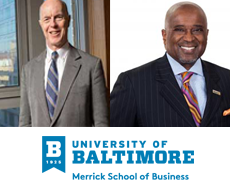 When:

Room:

Zoom

Description:

Have you thought about what the business-world might look like after COVID-19 subsides? Dean Dalziel is bringing our UBalt community closer together by offering a virtual conversation with speakers that have insights into the current business environment.

FEATURED GUEST: Troy LeMaile-Stovall, CEO, TEDCO (Maryland Technology Development Corporation)

Conversation Focus: What's spurring entrepreneurship and economic development in Maryland?

Date: Tuesday, Feb. 8, 2022
Time: 4:00-5:00 p.m.
Registration: Please pre-register for this Zoom event by using this link for all the Team with the Dean events. Password: MSBDean1
About the Speaker

As the CEO of TEDCO—Maryland's economic engine for technology companies—Troy LeMaile-Stovall leads the organization's mission to support economic development through the cultivation of an inclusive entrepreneurial innovation ecosystem. He brings to bear more than 25 years of experience in investment management, higher education, telecommunications, information/communication technology, and management consulting in this leadership role.

An entrepreneur at heart and in spirit, Troy founded the management consulting firms LeMaile-Stovall LLC and GTMS Partners, LLC. He also co-founded and served as the first president and CEO of GulfSouth Capital. His resume includes positions as the interim president of Zenith Education Group; principal at Butler Snow Advisory Services; executive vice president and chief operating officer of Howard University; and senior vice president and chief financial officer Jackson State (Mississippi) University, where he was awarded the Thurgood Marshall HBCU CFO of the Year. Earlier in his career, Troy held positions at McKinsey & Company, Southwestern Bell Telephone (now AT&T), AT&T Bell Labs, and Rockwell international.

Troy is a subject matter expert in capital stack formation and a frequent speaker on venture capital, economic development, and higher education administration, among other topics. He has published articles on entrepreneurship, venture capital, economic development, diversity and inclusion, and higher education.

Troy graduated cum laude from Southern Methodist University with a bachelor of science in electrical engineering. He earned a master's of science in computer science from Stanford University as a Bell Labs One Year on Campus Fellow, and an MBA from Harvard University. He was included in the Leadership Greater Washington Signature Program Class of 2019.

Contact Name:

Amy Greenlee

Contact Email:
Appropriate accommodations for individuals with disabilities will be provided upon request 10 days prior to a campus event and 30 days prior to an event requiring travel.