View:
Team with the Dean and Giselle Jones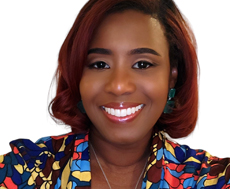 When:

Room:

Zoom

Description:

"Learning how to win together; navigating your boss, your colleagues, your customers, and your career."

Merrick School of Business Dean Murray Dalziel is bringing our UBalt community closer together by offering a virtual conversation with speakers who have insights into the current business environment.

FEATURED GUEST: Giselle Jones, CEO/Founder SOAR Consulting Services

Date: Tuesday, February 28, 2023
Time: 4-5 p.m.
Registration: Please pre-register for this Zoom event by using this link. You'll be provided the Zoom credentials after registering.

SPEAKER BIO

Mrs. Giselle Jones has always had a passion for helping and supporting women and communities of color in the corporate world. So, there is no surprise that SOAR has been a dream of hers for more than 20 years. Within that 15 years as an HR Executive, Giselle has been able to identify the struggle with conflict and office politics. Giselle did not only identify the need she has created SOAR to provide a solution to that need. SOAR is the HR Consulting, Career and Leadership Company you need!

SOAR is her business that showcases the passion and the experiences she has obtained over the years. Since launching SOAR - Giselle has been able to help a broad and diverse group of clientele.

Giselle earned both her undergraduate and Master of Business Administration from The George Washington University, and holds HR Certifications, specifically, SPHR and SHRM-SCP. Her expertise includes but is not limited to strategic planning, organizational/leadership development, talent/change management, benefits and compensation administration and leadership coaching.

Giselle, originally from the twin island of Trinidad and Tobago, loves to help people and has made it her mission to fill in those gaps that she observed during her time as an HR Executive. She believes all people deserve the knowledge, validation, and support they need to advocate for themselves. Let's learn how to win together!

Contact Name:

Nathaly Rivera

Contact Email:
Appropriate accommodations for individuals with disabilities will be provided upon request 10 days prior to a campus event and 30 days prior to an event requiring travel.