View:
Endowed by Our Creator: The Birth of Religious Freedom in America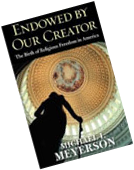 When:

Description:

Professor Michael Meyerson will discuss his new book Endowed by Our Creator: The Birth of Religious Freedom in America (Yale University Press, 2012) on Wednesday , November 7, at 6:30 p.m. at the Enoch Pratt Library Central Branch, Poe Room, 400 Cathedral Street, in Baltimore.

In Endowed by Our Creator, Professor Meyerson shows that the framers of the Constitution understood that the American government should not acknowledge religion in a way that favors any particular creed or denomination. Nevertheless, the framers believed that religion could instill virtue and help to unify a diverse nation. Through their writings and their decisions, the framers affirmed that respect for religious differences is a fundamental American value. Now it is for us, Meyerson concludes, to determine whether religion will be used to alienate and divide or to inspire and unify our religiously diverse nation.

This event is free and open to the public. Dean Ronald Weich will be introducing Professor Meyerson.

Contact Name:

Gloria Joy

Contact Email:

Contact Phone:

410.837.4631
Appropriate accommodations for individuals with disabilities will be provided upon request 10 days prior to a campus event and 30 days prior to an event requiring travel.