View:
Regional Policy and Economic Forecast Conference for Baltimore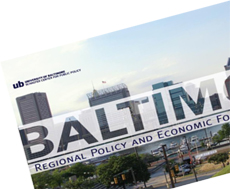 When:

Room:

Town Hall

Description:

The University of Baltimore's Schaefer Center for Public Policy will present a Regional Policy and Economic Forecast Conference for Baltimore on Tuesday, Oct. 6, featuring several high-profile guest speakers in an important discussion about Baltimore's economic potential. The half-day event will begin with a breakfast and networking session at 8:15 a.m. in the Town Hall in the H. Mebane Turner Learning Commons, (home of the Yale Gordon College of Arts and Sciences and Langsdale Library), 1415 Maryland Ave. The conference will kick off at 9 a.m. in the same location.

Among the topics on the agenda will be a talk stemming from the Schaefer Center's recent Policy Choices Poll, which surveyed hundreds of residents across the state on hot topic issues, including community-police relations, transportation, the economy, and more. A city-based economic forecast will also be in the spotlight, as well as an overview of strategies to encourage local tourism and job growth in the wake of last spring's civil unrest.

UB President Kurt Schmoke will deliver opening remarks. Other scheduled speakers include:

Ann Cotten, director of the Schaefer Center, on the latest Maryland Policy Choices Poll;
Anirban Basu, president and CEO of the Sage Policy Group, on the region's economic forecast;
William H. Cole IV, president and CEO of the Baltimore Development Corporation, and Thomas J. Noonan, president and CEO of Visit Baltimore, on efforts to grow Baltimore's economy.

Registration for the event is $50. Go here to register. For more information about the conference, call 410.837.6188 or visit the Schaefer Center's website.

The Schaefer Center is part of UB's College of Public Affairs.

Contact Name:

Ann Cotten

Contact Email:

Contact Phone:

410.837.6188
Appropriate accommodations for individuals with disabilities will be provided upon request 10 days prior to a campus event and 30 days prior to an event requiring travel.