View:
12:30 Talks @ Langsdale: "Through the eyes of another: Why empathy is critical for police-community relations"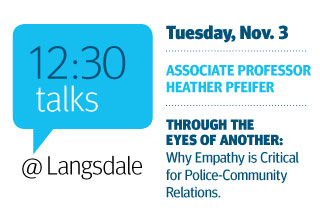 When:

Location:

Langsdale Library: Turner Learning Commons, third floor

Room:

319

Description:

Bring your lunch and join us in the Learning Commons room 319 in Langsdale Library for a series of informal talks by faculty from across the University.

This month's speaker is Associate Professor Heather L. Pfeifer from the School of Criminal Justice. In her talk, "Through the Eyes of Another: Why Empathy is Critical for Police-Community Relations," Professor Pfeifer will present an overview of "Illuminations: Artwork Creating Change," a program that uses artwork to train police officers in skills that lead to more effective rapport-building and communication with victims and witnesses of crime by increasing officers' cognitive and empathic understanding of the experience and behaviors of others.

Twelve-Thirty Talks at Langsdale are a great opportunity for students to engage with professors outside the classroom, for faculty to generate opportunities for collaboration, or for anyone to learn something new! We'll provide lemonade and cookies, you provide the discussion.

Contact Name:

Mike Kiel

Contact Email:
Appropriate accommodations for individuals with disabilities will be provided upon request 10 days prior to a campus event and 30 days prior to an event requiring travel.