View:
An Evening with SEC Commissioner Michael S. Piwowar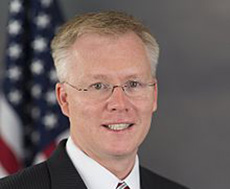 When:

Location:

John and Frances Angelos Law Center

Room:

Moot Court Room

Description:

Please join Dean Murray Dalziel of the Merrick School Business and Dean Ronald Weich of the UB School of Law as they welcome SEC Commissioner Michael S. Piwowar for "A Dialogue on the Future of the U.S. Securities Regulation." Save the date for an evening of engaging discussion.

About the Speaker

Michael S. Piwowar, Ph.D., was first appointed to the SEC by President Barack Obama and was sworn in on Aug. 15, 2013. Piwowar was designated Acting Chairman of the Commission by President Donald Trump from Jan. 23 to May 4, 2017.

Previously, Piwowar was the Republican chief economist for the U.S. Senate Committee on Banking, Housing, and Urban Affairs under Senators Mike Crapo (R-ID) and Richard Shelby (R-AL). He was the lead Republican economist on the four SEC-related titles of the Dodd-Frank Act and the JOBS Act. Piwowar also worked on a number of important SEC-related oversight issues under the jurisdiction of the Committee, such as securities, over-the-counter derivatives, investor protection, market structure, and capital formation.

Piwowar received a B.A. in Foreign Service and International Politics from the Pennsylvania State University, an M.B.A. from Georgetown University, and a Ph.D. in Finance from the Pennsylvania State University.

Contact Name:

Tashi Jelani

Contact Email:

Contact Phone:

410.837.4994
Appropriate accommodations for individuals with disabilities will be provided upon request 10 days prior to a campus event and 30 days prior to an event requiring travel.