View:
Making Entrepreneurship and Innovation Work in Health Care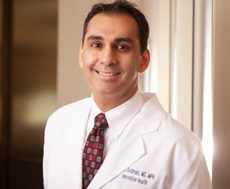 When:

Location:

UB Student Center

Room:

5th Floor, Bogomolny Room

Description:

Join Murray Dalziel, dean of the Merrick School of Business as he talks with Dr. Sunil Budhrani, co-founder of a company focused on telemedicine technologies and currently chief medical officer for Innovation Health.

Murray Dalziel, dean of the Merrick School of Business, will delve deep into the story on how Dr. Sunil Budhrani, MPH, MBA '03, co-founded CareClix Telemedicine, a pioneer in remote patient monitoring and telemedicine technologies and his other experiences bring forth entrepreneurship and innovation into the health care sector.

About the Speaker

Dr. Sunil Budhrani is the Chief Medical Officer for Innovation Health, a uniquely successful partnership between Aetna and one of the largest health systems in the Washington DC Metropolitan Area, INOVA Health System. Dr. Budhrani is a Board Certified Emergency Medicine Physician who graduated from the University of Pennsylvania with a degree in Neuroscience and English. He went on to complete his Medical Degree at the George Washington University, where he then pursued his Masters in Public Health due to an interest in Population Health Dynamics. Subsequently, he completed his Residency training in Emergency Medicine at the Tufts University School of Medicine in Massachusetts, and went on to Chair and direct Emergency Departments and Urgent Care Centers throughout the East Coast.

Dr. Budhrani then served as the Chief Medical Officer of the Evergreen Health Cooperative Insurance for the State of Maryland and led the clinical course for medical technology, network development, member engagement, and Population Health for the Plan. He co-founded CareClix Telemedicine, a leading pioneer in Telemedicine and Remote Patient Monitoring technologies with users throughout the United States and abroad. He as well served as the Chair of the American Telemedicine Association's Guidelines Committee for Practice of Primary Care and Urgent Care Telemedicine, has authored many papers on the subject of Telemedicine, and is a National Speaker on Virtual Medical Care on such topics as Reducing Hospital Readmissions and Employing Telemedicine in Medical Practices.

He currently resides in Northern Virginia with his wife and two daughters. Dr. Budhrani earned an MBA degree from the University of Baltimore in 2003.


Contact Name:

Office of the Dean

Contact Email:

Contact Phone:

410.837.4883
Appropriate accommodations for individuals with disabilities will be provided upon request 10 days prior to a campus event and 30 days prior to an event requiring travel.