View:
Making Entrepreneurship and Innovation Work in Manufacturing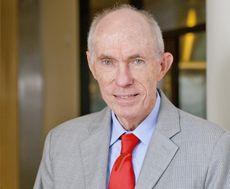 When:

Location:

John and Frances Angelos Law Center

Room:

AL 1201

Description:

Merrick Engages Series

Join Murray Dalziel, dean of the Merrick School of Business as he talks with Bob Luddy, founder of CaptiveAire—a leading manufacturer of commercial kitchen ventilation—as he brings insights into innovations and entrepreneurship in manufacturing.

Event Details

A conversation with Robert "Bob" Luddy, founder of CaptiveAire Systems about "Making Entrepreneurship and Innovation Work in the Manufacturing Sector."

Date: Thursday, Nov. 16, 2017
Time: 5:30 - 7:30 p.m.
Location: Angelos Law Center, 12th Fl
R.S.V.P. below.

More about the Speaker:

Recognizing the demand for a quality manufacturer of commercial kitchen ventilation equipment, Bob Luddy purchased a sheet metal shop in 1981 and transformed it into CaptiveAire Systems. Today, CaptiveAire employs over 1,100 employees, with 90 sales offices and six manufacturing facilities nationwide, and sales over $400 million in 2016.

A strong advocate of excellent education, Bob establishes schools which help youth develop good character and reasoning skills. In 1998, Bob established Franklin Academy, a public charter school in Wake Forest, which now serves over 1,600 K-12 students. In 2001, Bob founded St. Thomas More Academy, a classical, college preparatory high school in Raleigh. In 2007, Bob opened Thales Academy, a network of private schools offering a high quality Pre-K-12 education at an affordable tuition. The Luddy Schools are quickly growing, with 4,000 students enrolled throughout the Raleigh area. Bob is an avid supporter of entrepreneurs and the free market system.



Contact Name:

Donica Harper

Contact Email:

Contact Phone:

410.837.4883
Appropriate accommodations for individuals with disabilities will be provided upon request 10 days prior to a campus event and 30 days prior to an event requiring travel.