View:
The MFA Reading Series Presents Adam Robinson, Founder of Publishing Genius Press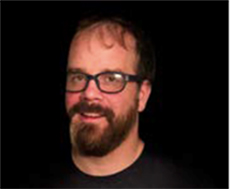 When:

Location:

Wright Theater

Description:

The M.F.A. in Creative Writing & Publishing Arts Reading Series, Fall 2018 presents:

MFA alumnus Adam Robinson, MFA '10, founder of Publishing Genius Press with poets Megan McShea and Param Anand Singh

Adam Robinson brings us an evening of new poetry and a discussion of small press publishing.

FREE and open to the public. Sponsored by the Hearst Visiting Scholars Fund.

---

About the guests...

Adam Robinson started his li'l press, Publishing Genius, in 2006 as part of an assignment in his first semester at UB. Since then, PGP has put out over 50 books, many of which have gone on to win awards and to be translated and republished by the big guys.


Megan McShea is the author of two books published by University of Baltimore alums: A Mountain City of Toad Splendor (Publishing Genius, 2013) and How to have a day (Ink Press Productions, 2015). In the anthology Ancient Party: Collaborations in Baltimore 2000-2010 (2014), she edited and published a book of writing generated by plork-friendly exercises. Her new book is called Steep in the Boil and will be released by PGP later this fall. She lives in Baltimore and works as an archivist.


Param Anand Singh is a poet and translator living in Henderson, New York. Yr Skull a Cathedral (Publishing Genius, 2018) is his first book of poetry. His sci-fi comedy thriller series, Reverse Transmission, is an eight-part audio drama forthcoming from Audible.

Contact Name:

Lyndsay Bates

Contact Email:
Appropriate accommodations for individuals with disabilities will be provided upon request 10 days prior to a campus event and 30 days prior to an event requiring travel.