View:
'O! Say' Poster Competition Judging with Keynote Address by Designer Kit Hinrichs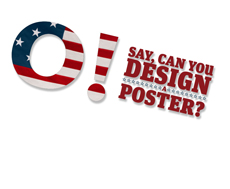 When:

Location:

Wright Theater

Description:

The University of Baltimore will host a special public event that will serve as the culmination of its "O! Say, Can You Design a Poster?" competition and provide a platform for the legendary graphic designer, Kit Hinrichs, to deliver a keynote address on the history of the design of the American flag. The event will take place in the UB Student Center's Wright Theater, 21 W. Mt. Royal Ave. It is free and open to the public; an R.S.V.P. is required (attendance details listed below).

Hinrichs will present a series of unusual case studies about his eclectic assortment of American flag memorabilia, which includes quilts, historic flags, folk art, native American weavings, political propaganda, jewelry, packaging, war posters and more. He will discuss how he has integrated his passion for the flag into his design practice.

Hinrichs founded Studio Hinrichs in 2009, following 23 years as a partner of the international design firm Pentagram. He has design directed projects for the California Academy of Sciences graphic identity program, Sony Metreon Entertainment Complex identity and interior graphics, United Airlines' Hemispheres magazine, the Design Within Reach identity and catalog, and a number of others. He is co-founder and design director of @Issue: Journal of Business and Design, and has taught at the School of Visual Arts in New York, the California College of the Arts, and the Academy of Art in San Francisco. Several of his pieces are in the permanent collections of the Museum of Modern Art and the Smithsonian Institution's Cooper-Hewitt Museum of Design. Hinrichs is a recipient of the AIGA medal in recognition of his exceptional achievements in the field of graphic design and visual communication.

Hinrichs also will serve as one of five judges for UB's "O! Say, Can You Design a Poster?" competition (closed as of Aug. 15), as part of Baltimore's Star-Spangled 200 celebration marking the 200th anniversary of the Battle of Baltimore and Francis Scott Key's composition of the "Star-Spangled Banner." The celebration will feature the weeklong Star-Spangled Spectacular, taking place in and around the city's harbor, Sept. 6-16.

Learn more about the "O! Say, Can You Design a Poster?" competition.

Learn more about the Star-Spangled 200 celebration.

Contact Name:

Chris Hart

Contact Email:
Appropriate accommodations for individuals with disabilities will be provided upon request 10 days prior to a campus event and 30 days prior to an event requiring travel.