View:
Internship Week- Experiential Learning Showcase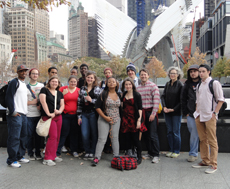 When:

Location:

Hilda and Michael Bogomolny Room

Description:

This event is an opportunity for students to share experiential learning projects (including Research and Project Based Learning, Internship, Study Abroad/Global Field Study, Community Engagement, and Service Learning) in a ten-minute presentation to peers, staff, faculty, parents, and alumni. In addition, attendees will hear from University of Baltimore alumni who participated in experiential learning and learn how their experience impacted them.

Schedule of Events:
10:30 a.m. Check-in (light breakfast)
10:45 a.m. Keynote address
11 a.m.-12:50 p.m. Student presentations
1 p.m. Light lunch
1-2 p.m. Alumni panel with Q&A
2-3 p.m. Student presentations


Alumni Panelists:

Syed H. Ali, B.S. '14
Syed's internship at T. Rowe Price led to a full-time opportunity following graduation. He participated on two alternative spring break trips to Harlan, Ky. & Mullens, WVa. And, Syed coordinated and hosted a series of enrichment courses on financial education and leadership development at a local business, CUPs Coffeehouse and Kitchen.

Tkeyah Lake, B.S. '14
She is a grad student at Georgetown University majoring in Public Relations and Corporate Communications. And, Tkeyah works as the social media intern for Banner Public Affairs and as a communication associate for ColorComm Network. During her time as a UB student, Tkeyah participated in a global field study trip to Belize.

Colin Rau, B.S. '13
Colin works as an auditor at SC&H Group, a public accounting firm in Sparks, Md. He interned at the Office of Legislative Auditors and SC&H Group while he attended UB. He also participated in several learning-based trips as a student, including one to London, that gave him a closer look into the accounting profession.

John Zuknick, B.S. '12, M.B.A. '14
He is currently the program Manager for UB's Center for Entrepreneurship and Innovation. John attended two global field study trips: Brazil in March 2013 and Chile in January 2014.

Sponsored by the Career and Professional Development Center, Center for Entrepreneurship and Innovation, Office of Alumni Relations, and Office of Academic Innovation.

Contact Name:

Career and Professional Development Center

Contact Email:

Contact Phone:

410.837.5440
Appropriate accommodations for individuals with disabilities will be provided upon request 10 days prior to a campus event and 30 days prior to an event requiring travel.