View:
Policing the Community: Know Your Rights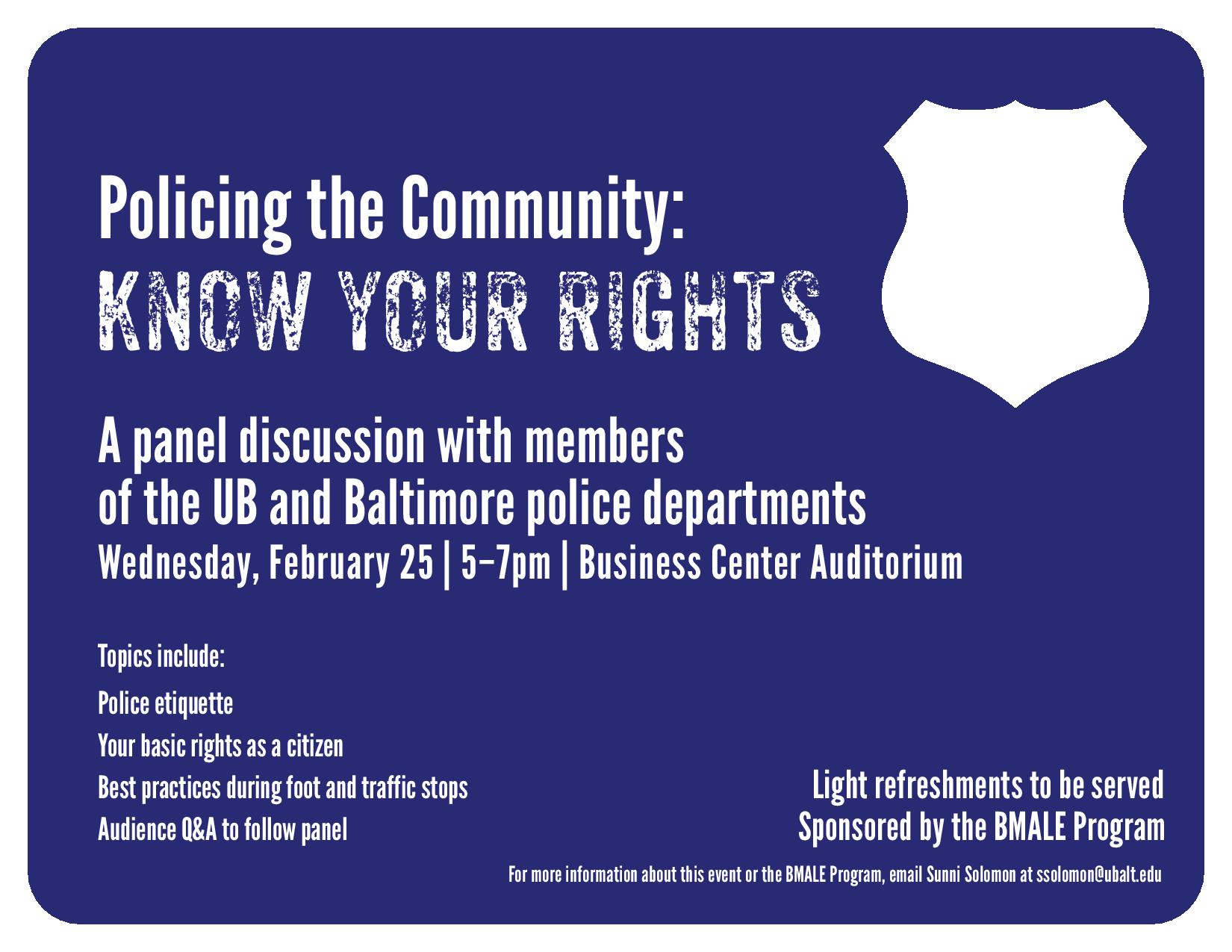 When:

Location:

William H. Thumel Sr. Business Center

Room:

Auditorium, 1st Floor

Description:

Program Description:

Over the past year there have been a number unfortunate incidents that involved law enforcement and resulted in the loss of life of young black men. Young black males have been recognized by researchers as a group that is engaged in frequent involuntary contact with the police. Criminal justice research has uncovered that differences in attitudes toward police can easily be linked to race and these involuntary experiences. These incidents and experiences have drawn national attention to the need for more communication and relationship mending between law enforcement and private citizens, and especially with young black men. The public distrust of police directly effects the legitimacy of law enforcement, the authority of officers, and their ability to function effectively in minority communities. In an effort to rebuild trust and confidence in the police among young black males, the B.M.A.L.E. Program has invited a group of law enforcement professionals to engage with the University of Baltimore community in a moderated discussion on a range of issues related to civilian - police interactions with a specific focus on black males.

Topics that will be discussed*:

Police Etiquette
Your Basic Rights as a Citizen
Best Practices During Foot and Traffic Stops

*Audience Q&A will follow panel discussion.

What is the B.M.A.L.E. Program?

The Brotherhood, Mentorship, Achievement, Leadership, and Enterprise Program (BMALE Program) is an initiative supported by the Office of the Provost and the Office of Academic Innovation that has been tasked with working to close the achievement and retention gap for undergraduate men of color at the University of Baltimore. The program will include social, cultural and academic support through the use of intense mentoring, peer cohort support structures, faculty development opportunities, enhanced advising and tutoring access, and environmental assessments.

Contact Name:

Sunni Solomon

Contact Email:

Contact Phone:

410.837.5927
Appropriate accommodations for individuals with disabilities will be provided upon request 10 days prior to a campus event and 30 days prior to an event requiring travel.