View:
Spotlight UB Presents: A Reading with Irish Poet Nessa O'Mahony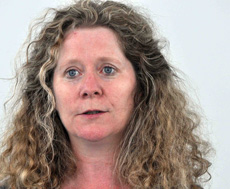 When:

Location:

Wright Theater

Description:

Dublin-based poet Nessa O'Mahony will spend April at the University of Baltimore as a poet-in-residence, visiting classes, talking about her work and that of other Irish writers and artists, and, on Monday, April 20, a public reading as part of the Spotlight UB live performance series. The reading will take place at 7 p.m. in the UB Student Center's Wright Theater, 21 W. Mt. Royal Ave. This event is free and open to the public.

O'Mahony, winner of the National Women's Poetry Competition in 1997 and shortlisted for the Patrick Kavanagh Prize and Hennessy Literature Awards, will visit various classes at the University, including an Irish culture class, a class on arts and ideas, and a class on modern poetry. She is traveling to the U.S. on a grant from Culture Ireland, which supports and promotes the presentation of Irish arts internationally. In addition to her work at UB, she also will perform readings in Washington, D.C. at Busboys and Poets and at Catholic University.

Learn more about O'Mahony.

Contact Name:

Kimberley Lynne

Contact Email:

Contact Phone:

410.837.4053
Appropriate accommodations for individuals with disabilities will be provided upon request 10 days prior to a campus event and 30 days prior to an event requiring travel.