View:
Inspired Discoveries: symposium of undergraduate research and creative works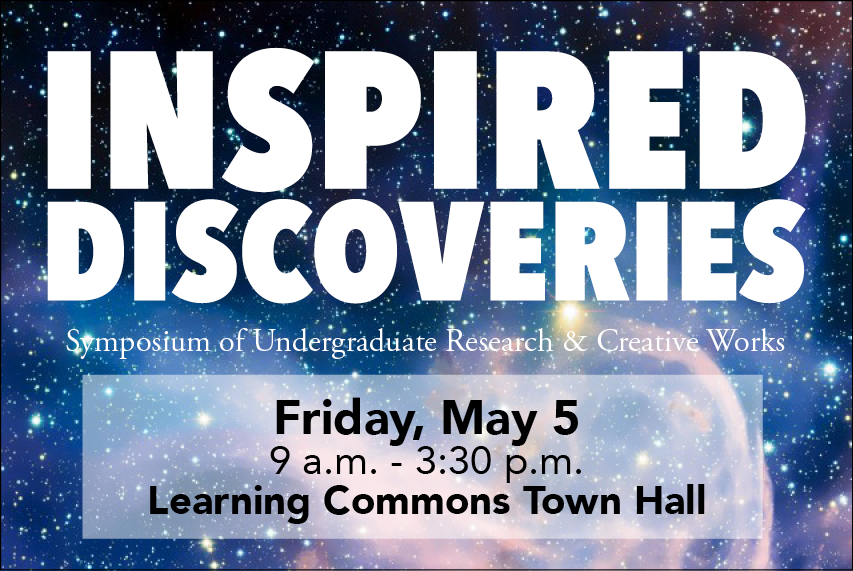 When:

Location:

H. Mebane Turner Learning Commons

Room:

Town Hall

Description:

Friday, May 5
9am - 3:30pm
Learning Commons Town Hall

Inspired Discoveries is a collaboration of Langsdale Library, the Helen P. Denit Honors Program, the Office of Sponsored Research and the Office of the Provost. This symposium is part of an ongoing effort to recognize and encourage undergraduate research and other academic achievements.

Inspired Discoveries typically includes remarks from President Kurt Schmoke and Provost Darlene B. Smith, student presentations and poster sessions, and a luncheon with a keynote speaker. Student presentations may be in the form of poster sessions, exhibits, panel presentations or presented papers. Projects may include original research conducted individually or as a team or creative works such as video games or design projects.

Contact Name:

Lucy Holman

Contact Email:
Appropriate accommodations for individuals with disabilities will be provided upon request 10 days prior to a campus event and 30 days prior to an event requiring travel.