View:
Professor Byron Warnken Celebration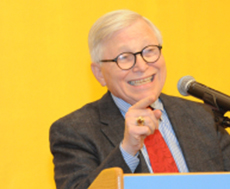 When:

Description:

The UB School of Law will celebrate Professor Warnken and dedicate its Moot Courtroom in his honor at a May 3, 2018, event at UB's John and Frances Angelos Law Center (1401 N. Charles St., Baltimore, MD 21201). The event will run from 5:30 to 9 p.m. ticket and donation information.

Tickets purchased by April 30:
· Current students/faculty/staff: Free
· UB law alumni 2013-2017: Free
· All others: $77 per ticket (in honor of Professor Warnken, J.D. '77)

Tickets purchased after April 30:
· $100 per ticket

Contribute a story, photo or memory:
Help us create a special keepsake book for Professor Warnken and his family by sharing a story, a photo or a memory. Write us at warnkenevent@ubalt.edu for more information.

Contact Name:

Shavaun O'Brien

Contact Email:

Contact Phone:

4635
Appropriate accommodations for individuals with disabilities will be provided upon request 10 days prior to a campus event and 30 days prior to an event requiring travel.