View:
Big Data: Data Analytics in Complex Litigation CLE Seminar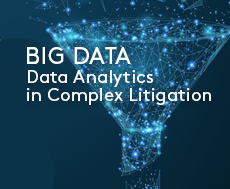 When:

Location:

UB Student Center

Room:

5th Floor

Description:

Complex litigation often involves an enormous amount of data. Sorting and analyzing the mountain of data from numerous sources can be a colossal and convoluted task. This seminar will discuss various aspects of how to manage large data sets.

Join our panel of distinguished experts and attorneys as they provide an overview of data analytics in our general session. The panel will feature big data experts such as Roberto Cavazos, Ph.D., from the University of Baltimore and Kyle Cheek, Ph.D., from the University of Illinois-Chicago. Panel speakers will also include Labor and Employment Economist Dwight Steward, Ph.D, and top whistle-blower attorney in Washington, D.C., Vince McKnight. Attendees will then choose one of two breakout sessions with a more focused topic led by Dr. Cavazos and Dr. Cheek.

R.S.V.P. at https://www.bigdatacleseminar.com/

This event is co-sponsored EmployStats, UB School of Law and the Merrick School of Business.

Contact Name:

Roberto Cavazos

Contact Email:
Appropriate accommodations for individuals with disabilities will be provided upon request 10 days prior to a campus event and 30 days prior to an event requiring travel.