View:
School of Law Commencement, Featuring Keynote Speaker Rod Rosenstein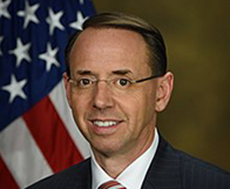 When:

Location:

The Lyric

Description:

U.S. Deputy Attorney General Rod Rosenstein will deliver the keynote address for the University of Baltimore School of Law Commencement at the Modell Performing Arts Center at the Lyric in Baltimore.

Rosenstein, a Bethesda resident and former U.S. Attorney for the District of Maryland, became U.S. Deputy Attorney General in April 2017. Following the recusal of Attorney General Jeff Sessions and the firing of FBI Director James Comey, Rosenstein appointed Robert Mueller as special counsel to investigate alleged ties between individuals associated with the Donald Trump presidential campaign and Russia during the 2016 elections, and related matters.

Learn more about Rosenstein.

This is an invitation-only event, limited to School of Law graduates, families, friends and special guests. For those who wish to attend but don't have a ticket, the event will be live streamed in the School of Law's Moot Court Room, located on the lower floor of the Angelos Law Center, 1401 N. Charles St.

Contact Name:

Christine Stutz

Contact Email:
Appropriate accommodations for individuals with disabilities will be provided upon request 10 days prior to a campus event and 30 days prior to an event requiring travel.