View:
Play Reading: Another War Story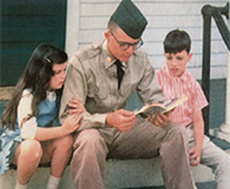 When:

Location:

Wright Theater

Description:

Another War Story: Sibling Addition, a docudrama about a quest to understand the experiences of soldiers in Vietnam, will receive its inaugural reading in the University of Baltimore's Wright Theater in the UB Student Center, 21 W. Mt. Royal Ave. The theatrical play, written by Beverly Parsons, a student in the MFA in Creative Writing and Publishing Arts program in the University's Yale Gordon College of Arts and Sciences, highlights stories of the siblings of Vietnam veterans. The event is free and open to the public.

As part of her summer independent study in playwriting, Parsons is developing the new work based on her interviews with siblings of those who served in the war. As part of this process, she focuses on her own long-term efforts to regain closeness with her older brother, who saw combat during this historic conflict.

Learn more about the play and the reading.

Contact Name:

Chris Hart

Contact Email:
Appropriate accommodations for individuals with disabilities will be provided upon request 10 days prior to a campus event and 30 days prior to an event requiring travel.