View:
Voices of Public Service Presents: Stacy L. Rodgers, M.P.A. '99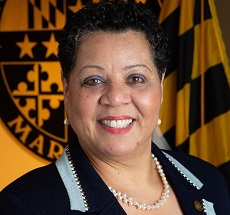 When:

Location:

Online

Room:

Zoom

Description:

Join us for a conversation with Stacy L. Rodgers, M.P.A. '99, Baltimore County Administrative Officer.

(Click the link above to join the event)

About the Speaker

Stacy L. Rodgers has more than 30 years of experience in working with Federal, state, and local government agencies and non-profit organizations where she has successfully designed, implemented and overseen innovative programs and initiatives. In March 2019, Stacy became the first African-American and second woman appointed to serve as the Baltimore County Administrative Officer (CAO). She is responsible for directing the County's day-to-day operations and providing oversight for the County's nearly $4 billion dollar operating budget. Baltimore County is the 3rd largest jurisdiction in Maryland, with a population of more the 850,000 residents.

Previously Stacy served in senior executive roles at every level of government including: Director of the Baltimore City Department of Social Services; Deputy Director of Program Operations for the District of Columbia's Child and Family Services Agency; and Deputy Secretary for Programs for the Maryland State Department of Human Resources. Stacy also served as the Chief of Staff for the U.S. Social Security Administration during the Obama Administration, overseeing day-to-day operations for the 64 thousand member workforce and 12 billion dollar budget.

Stacy is a graduate of the Harvard University John F. Kennedy School of Government Executive Leadership Institute, the National Forum for Black Public Administrators' (NFBPA) Mentor Program and Executive Leadership Institute. She holds a Bachelor of Arts degree in Psychology from the University of Maryland, Baltimore County, and a Master's degree in Public Administration from the University of Baltimore.

Stacy's passion for service also extends beyond the workplace. Stacy contributes her time, resources and talents to numerous faith and civic organizations including the Providence Baptist Church, Alpha Kappa Alpha Sorority, Inc., and the W. E. B. DuBois Circle. She also serves as National Vice President of the NFBPA and Chairperson of the Dean's Advisory Board for The University of Baltimore's College of Public Affairs.

About the Series

Voices of Public Service is a monthly series that gives students an opportunity to learn about public service careers from seasoned professionals. Guest speakers include government and nonprofit leaders, elected officials, and business leaders who have made a civic contribution to society. Students from all majors and programs are welcome to attend.

Sponsored by the College of Public Affairs, the Schaefer Center for Public Policy and the Career and Internship Center.

Contact Name:

Monica Queen

Contact Email:
Appropriate accommodations for individuals with disabilities will be provided upon request 10 days prior to a campus event and 30 days prior to an event requiring travel.