View:
Team with the Dean and Nadine Coy, a Healthcare Executive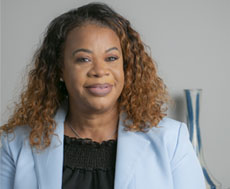 When:

Room:

Zoom

Description:

Merrick School of Business Dean Murray Dalziel is bringing our UBalt community closer together by offering a virtual conversation with speakers who have insights into the current business environment.

FEATURED GUEST: Nadine Coy, COO, Health Service for Children with Special Needs

Date: Tuesday, March 14, 2023
Time: 4-5 p.m.
Registration: Please pre-register for this Zoom event by using this link. You'll be provided the Zoom credentials after registering.

About the Speaker

Nadine Coy is a seasoned managed care executive with over 25 years' experience in leading managed care program operations. Since 2004, she has held executive roles dedicated to providing leadership and direction over public programs, resulting in almost 20 years in direct support of underserved populations and individuals with special health care needs. Her work in public programs serving Medicaid populations has been deeply influenced by personal compassion and drive to eliminate health care disparities. As a native of Jamaica, Nadine's perspectives have been heavily shaped by the socio-economic challenges impacting health care in her home country. Her international perspectives coupled with our national challenges including those prevalent in the District continuously fuel her drive and commitment to global health equity.

As an administrative leader in healthcare and the Chief Operating Officer (COO) at HSCSN, Nadine views her operational teams as the backbone of the care delivery system that supports our enrollees each day. Her leadership style is visionary, strategic and results-oriented. She is especially skilled in developing highly-effective, cross-functional teams invested in organizational commitment to goals. Nadine continuously drives for optimal team performance and efficiencies in a manner that is heavily rooted in a shared vision and understanding that each operational process, service interaction, and provider engagement supports enrollee access to quality care services to achieve the highest level of well-being.

Contact Name:

Nathaly Rivera

Contact Email:
Appropriate accommodations for individuals with disabilities will be provided upon request 10 days prior to a campus event and 30 days prior to an event requiring travel.