View:
Ethics and AI Week: AI Panel Presentations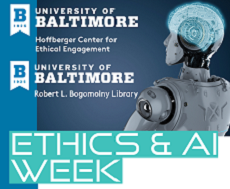 When:

Location:

Bogomolny Library

Room:

412

Description:

The Hoffberger Center for Ethical Engagement will wrap up Ethics and AI Week with panel presentations from students in PHIL 497: Philosophy and AI. Topics will include:

AI, Mind, and Consciousness: To what extent is it possible for AI to have consciousness? Drawing on the scholarly literatures group members offer competing views and clarify each other's respective arguments and positions.

AI Demonstrations: What are interesting demonstrations of ChatGPT: student perspectives.

AI and Humanity: Students will present ways that this new technology is already impacting humanity, with reflections.

*Refreshments will be served.

This event is free and open to the public.

If you are unable to attend in person, there is a virtual option available:

Contact Name:

Steven Scalet

Contact Email:
Appropriate accommodations for individuals with disabilities will be provided upon request 10 days prior to a campus event and 30 days prior to an event requiring travel.