View:
Ethics and AI Week: A Reading by UBalt Writers and ChatGPT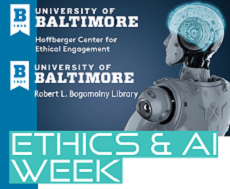 When:

Location:

Bogomolny Library

Room:

412

Description:

As Ethics and AI Week continues, the Hoffberger Center for Ethical Engagement will present a reading by UBalt Writers, where faculty in the MFA in Creative Writing & Publishing Arts program will feed ChatGPT some aspect of their creative work and ask it to create new writing in the voice of the writer; the faculty will observe and comment on the results.

Featured faculty include:

Betsy Boyd, assistant professor
Jane Delury, professor
Steven Leyva, associate professor
Marion Winik, professor

This event is free and open to the public.

If you are unable to attend in person, there is a virtual option available:

Contact Name:

Steven Scalet

Contact Email:
Appropriate accommodations for individuals with disabilities will be provided upon request 10 days prior to a campus event and 30 days prior to an event requiring travel.